Chicago 2014 Certified KPI Professional Training Course
Sign up now for The KPI Institute's Chicago 2014 Certified KPI Professional Training Course on 1-3 September.
The course trains participants in establishing and working with KPIs, offering them the opportunity to get certified on the ability to deploy and use KPIs in accordance with The KPI Institute's Key Performance Indicators Management Framework, the main body of knowledge on the rigorous use of KPIs in business.
Designed to develop skills and competences, the course will enable you to master key aspects of working with KPIs: preparation, identification, selection, documentation, data collection and reporting, visualization and analysis.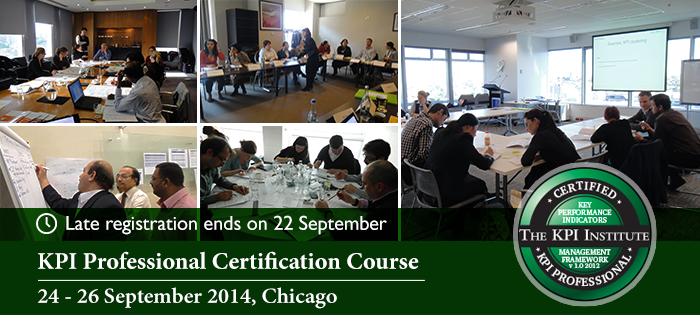 Why You Should Attend
Have a clear understanding of the KPI management challenges and how to address them

Facilitate the KPI selection process and establishment of scorecards and dashboards at a functional and organisational level

Choose the right tools from the KPI management toolkit to maximise the impact of performance management in practice

Deploy and promote good practice in KPI activation, reporting and visualization

Provide advice and coach colleagues on the rigorous approach to establish and use KPIs.
What to Expect
21 hours of intense KPI training

18 hours of technical training, complemented by over 2 hours of interactive work

15 key concepts clarified

13 insights into implementing and using KPIs smartly

12 templates to support deployment of course learning

11 years of experience in performance management synthesized into comprehensive course material

10 smartKPIs explored in detail

9 interactive exercises and group activities

8 quick reference guides

6 months of free access to the www.smartkpis.com premium content.
Certification Process
Participants will be pre-tested by using a multiple choice questionnaire at the beginning of each session. On Day 3, delegates can opt in to attend a final test to obtain the Certified KPI Professional Certification from The KPI Institute.
Course details and investment
| | |
| --- | --- |
| Date | 24-26 September 2014 |
| Location | Congress Plaza Hotel, Chicago, Illinois |
| Course duration | 9:00-17:00 on Day 1-2 and 9:00-16:45 on Day 3 |
| Other inclusions | Course support handouts, certificate for course completion, lunch-catering service, coffee breaks |
| Class size | Limited to a maximum of 16 participants |
| Registration deadline | 22 September 2014 |
| Course attendance fee | $2,500 – $3,500 (GST included, details in the course brochure) |
| Special offers | Visit course presentation page |
| Complete agenda | Download PDF brochure |
Register via 3 easy ways
The KPI Institute
September 3rd, 2014
Events