June 25th, 2013
Posted by admin
Research
0 thoughts on "NEW SMARTKPIS.COM REPORT RANKS THE TOP TELECOMMUNICATIONS KPIS OF 2011-2012"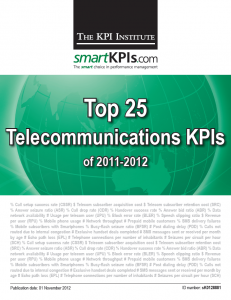 June 25, 2013, Melbourne, Australia – The KPI Institute, the global authority on Key Performance Indicators (KPIs) research and education announces the launch of a new report in its 2011-2012 edition of its popular Top 25 series of reports. The series is based on research conducted through www.smartKPIs.com, which contains over 20,000 Key Performance Indicator examples, making it the world's largest source of thoroughly documented KPIs.
Telecommunications industry refers to the specific services that support the exchange of information over significant distances by electronic means. It includes the activities of providing telecommunications and related service activities (i.e. transmitting voice, data, text, sound and video). The transmission facilities that carry out these activities may be based on a single technology or a combination of technologies. The commonality of activities classified in this division is the transmission of content, without being involved in its creation. The breakdown in this division is based on the type of infrastructure operated. The indicators regard the data transmission outcomes, process and efficiency, as well as the infrastructure supporting it.
The Top 25 Telecommunications KPIs of 2011-2012 report compiles the most popular 25 KPIs used by the Telecommunications industry. The methodology used to conduct the research consisted of ranking the KPI examples published in the Telecommunications industry of smartKPIs.com, based on their number of views in 2011. Out of the more than 40 Telecommunications KPIs available on smartKPIs.com, the 25 most viewed by the members and visitors of smartKPIs.com were selected and analysed in detail in this report.