"Criteria for employee performance management" webinar recording is available
The "Criteria for employee performance management" webinar, provided by the KPI Institute as part of the Performance Management series, has been uploaded on our website and is available for you to watch online.
The webinar was presented by Cristiana Alexandra Blaga, Organizational Development Specialist at the KPI Institute, the global authority on KPI research and education. The one hour webinar delivers valuable information on identifying, selecting and implementing criteria for employees' evaluation, compensation and recognition within the organization.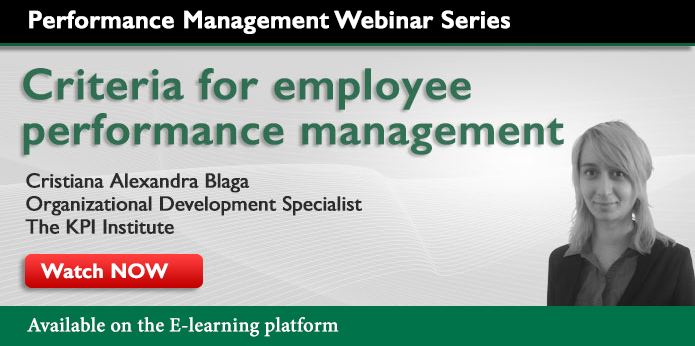 In the webinar, Ms. Blaga explained:
Key terminology in performance management system at the employees level;
Tools and techniques in measuring employees performance;
The architecture for the employees performance management;
Steps in implementing a performance management system for the employees;
The preparation and deployment of employees' performance meeting;
Achievements rewarding of employees performance.
To access the webinar recording follow the steps:
Log in or create an account on our online Store;
Add the webinar to your cart and proceed to checkout;
Log in with the same username and password on our E-learning platform;
Select the webinar and watch the recording online.
The recording of this webinar can be watched online in a streaming video format and is not available for download.
You can review the presentation for free, until the 20th of November 2014. After this date the webinar will be available for purchase only.
Visit our online Store for more valuable resources and webinars.
If you have any problems accessing any of the listed webinars, please contact Magda Grama at [email protected]
The KPI Institute
November 7th, 2014
E-learning