KPI Documentation – Free webinar by The KPI Institute
The KPI Institute, the global authority in Key Performance Indicators (KPIs) research and education now offers weekly webinars that provide the information and best practices needed to understand the performance management architecture, overcome challenges and attain performance excellence, while following the process sequence.
The third webinar from this series focuses on the KPI documentation process.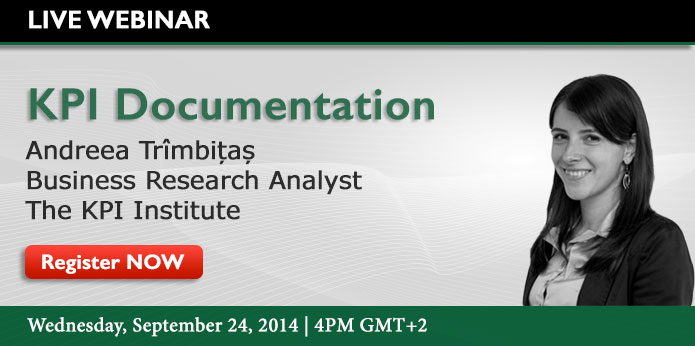 Webinar details
Topic: Documenting KPIs
Date: Wednesday, September 24th, 2014
Speaker: Andreea Trîmbițaș, Business Research Analyst, The KPI Institute
Summary outline of the webinar
Once Key Performance Indicators (KPIs) have passed through the selection process, they need to be documented, in order to be activated. KPI documentation refers to defining for each indicator a set of fields considered as important in order to enhance their understanding. Among the most popular fields in the documentation form are the definition, calculation formula and target.
Main topics covered
• The importance of using a KPI documentation form;
• The process of documenting KPIs;
• The process of target setting for KPIs;
• Challenges in working with targets.
Key learning points
• Understand the KPI documentation form functions;
• Document a KPI;
• Follow the target setting process;
• Identify KPI target sources;
• Understand the negative impact of target setting.
About the speaker
Andreea Trîmbițaș is Business Research Analyst at INTEGERPERFORM, the consulting arm of The KPI Institute, the global authority on Key Performance Indicators (KPIs). Her research activity in the Performance Management field materialized in the documentation of over 500 KPIs from 16 functional areas and 25 industries, the development of the publications: "The KPI Compendium", "Top 25 KPIs in 2011-2012" Report Series, and the contribution to "Performance Magazine", The KPI Institute's specialized online magazine.
As a consultant, Andreea was in charge of implementing a performance management system based on Balanced Scorecard at strategic, operational and individual level in companies from industries such as petrochemicals, public sector, health and professional services. Also, she revised the performance management architecture for numerous international clients.
Free Registration
To register for the webinar click here.
The KPI Institute
September 18th, 2014
E-learning