Employee Performance Evaluation – Free webinar by The KPI Institute
The KPI Institute, the global authority in Key Performance Indicators (KPIs) research and education now offers weekly webinars that will provide the information and best practices needed to understand the performance management architecture, overcome challenges and attain performance excellence, while following the process sequence.
Establishing and maintaining a functional and objective performance management framework at employee level is one of the most challenging aspects that organizations, managers and employees face on a regular basis.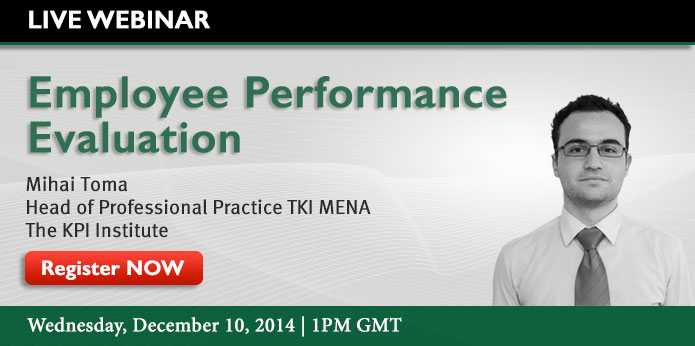 Webinar details
Topic: Employee Performance Evaluation
Date: Wednesday, 10th of December
Speaker: Mihai Toma, Head of Professional Practice MENA at the KPI Institute
Summary outline of the webinar
The webinar will emphasize the importance of individual performance management within organizations. The focus will be directed at conducting employee performance evaluations based on objectives, KPIs, competences and behaviors by using a set of different assessment techniques. In conjunction with the above, the link between individual performance, compensation and rewards system will be addressed.
Main topics covered
Importance of individual performance
Clarification of key terms: objectives, KPIs, competences and behaviors
Individual performance management architecture
Employee performance assessment techniques
Best practice examples of employee evaluations
Linking employee performance to compensation and reward systems
Challenges of individual performance management
Key Learning Points
Understand the individual performance management architecture
Apply different assessment techniques in conducting employee performance evaluations
Acknowledge the relationship between employee performance, compensation and reward systems
About the speaker
Mihai Toma is Head of Professional Practice MENA at the KPI Institute, the global authority on KPI research and education.
His research activity in the Performance Management field has resulted in the documentation and revision of over 1,000 Key Performance Indicators. Some of Mihai's most significant research programs have resulted in the development of several publications, such as "The KPI Compendium" and the "Top 25 KPIs in 2011-2012" Report Series.
As a facilitator, Mihai has developed and delivered training courses on selecting and documenting KPIs, the importance of data visualization, as well as business analysis techniques.
Free Registration
To register for the webinar click here
Webinar Recording
The webinar recording will be available on our eLearning platform.
The KPI Institute
December 5th, 2014
E-learning