Recognizing excellence: The KPI Institute announces employee of the year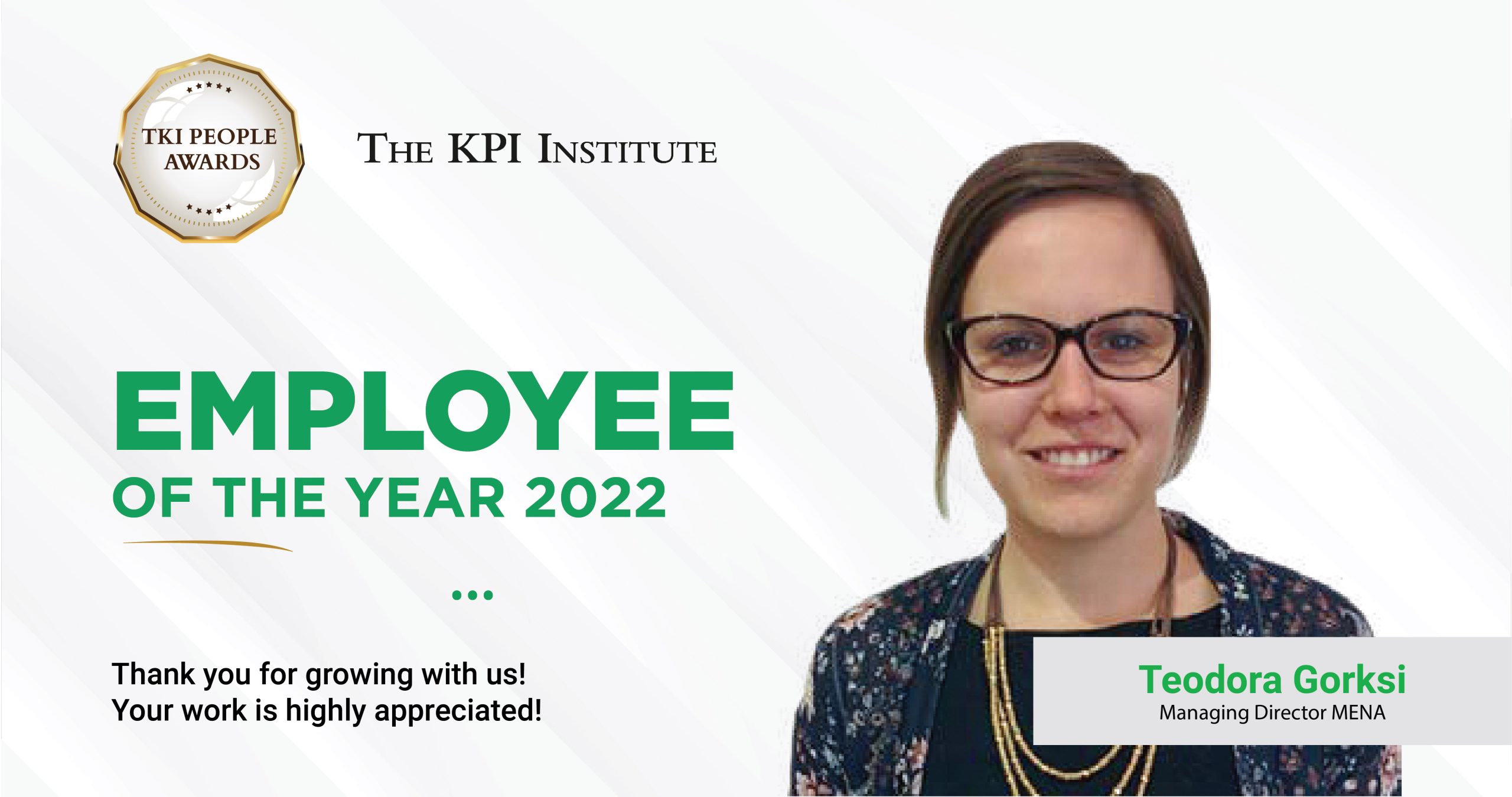 The KPI Institute, a global research institute specializing in business performance, has announced the winner of the TKI People Awards for Employee of the Year 2022. The TKI People Awards recognize employees and teams who go above and beyond expectations, excel as team players, and create a tremendous impact on the company.
Teodora Gorksi, Managing Director – MENA, is the recipient of the Employee of the Year award. She has not only excelled in her job but also contributed significantly to the growth of the organization. She was praised by Adrian Brudan, Managing Partner at TKI, for her "relentless efforts, support offered to the team, and excellent results achieved."
Let's find out what her life and work principles are.
What does receiving the Employee of the Year award mean to you?
Teodora: I always like to tell a story about myself. Starting with my childhood, I was always trying to be one step ahead. It began with a story about finding Neverland, winning first prize in school, going to the math Olympics, and being captain of the volleyball team. Growing older made me realize that it is more than that. Being ahead means creating something great, trusting people, putting passion in what you do, keeping your family and friends near, learning from many, teaching more, encouraging everyone, and finally, never forgetting that when you were a child, you thought everything was possible. Well, it still is. This has always inspired me to bring motivation, passion for what I do, knowledge and an open heart and mind to what I do. I am a proactive learner, and I always feel the motivation and commitment towards personal and professional development while leaving my personal contribution and legacy in the things I get involved.
What's your favorite accomplishment so far at TKI?
Teodora: I would include among them, opening operations in a new region and fostering positive work and personal relationships with my colleagues, a lot of which I can call my friends, and some are even part of my family. Together, we established a strong foothold in the region and created a collaborative work environment that led to remarkable results.
When you're faced with a challenge at work, how do you find a solution?
Teodora: "Have a break, have a KitKat." 😊
Or, if you want something more serious:
'"Believe you can, and you're halfway there." – Theodore Roosevelt
What would be the three main career lessons that you have learnt thus far?
Teodora: I'd like to mention four based on Luthans' four positive attributes:
Hope – Embrace hope as a driving force to set goals, create a roadmap, and stay self-motivated with willpower and waypower to reach your destination.
Efficacy – Develop efficacy by cultivating the conviction to execute tasks with excellence in any given situation. Believe in yourself, and let your confidence shine through.
Resilience – Cultivate resilience as an indispensable trait that enables you to bounce back and overcome any setback, disappointment, or success.
Optimism – Harness the power of optimism to propel you forward toward success. Optimism creates a positive outlook and a belief in the possibilities of achieving your goals. Let this positive energy fuel your happiness, perseverance, and success.
********************
Join The KPI Institute's growing team! Visit TKI's official LinkedIn page to see job openings, career opportunities, and more.
The KPI Institute
March 22nd, 2023
Awards, Employees
Tags:
Employee of the Year, TKI People Awards