Understanding KPIs – Free webinar by The KPI Institute
The KPI Institute, the global authority in Key Performance Indicators (KPIs) research and education now offers weekly webinars that will provide the information and best practices needed to understand the performance management architecture, overcome challenges and attain performance excellence, while following the process sequence.
The first webinar from this series, which aims at providing an introduction to the world of Key Performance Indicators (KPIs), focuses on understanding KPIs.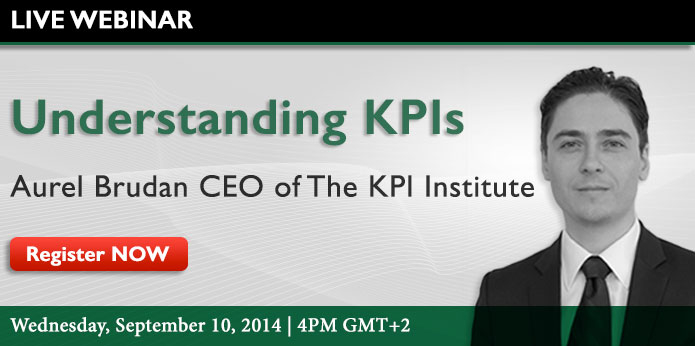 Webinar details
Topic: Understanding KPIs
Date: Wednesday, September 10th, 2014
Speaker: Aurel Brudan, CEO, The KPI Institute
Summary outline of the webinar
Working with KPIs is challenging due to the lack of standards in their terminology, definition and usage. The KPI Institute's research in the field brings clarity to this topic of high interest, which we are glad to share with all the interested professionals.
Main topics covered
The role of KPIs;
KPI definition;
Linking metrics to Key Performance Indicators, Key Risk Indicators and analytics;
KPI naming standards;
Generating value from KPIs.
Key Learning Points
Position KPIs in context as management tools;
Become familiar with KPI naming standards;
Learn from practical examples of how KPIs lead to insights and corrective actions.
About the Speaker
Aurel Brudan is the founder and CEO of The KPI Institute, the global authority on Key Performance Indicators research and education. Under his coordination, the Institute research team documented over 7,000 KPI examples from 15 functional areas and 24 industries, reviewed 1,000+ performance reports from 125 countries and referenced 20,000+ resources, the result being www.smartKPIs.com, the premier destination for quality performance management and measurement resources. Other research programs resulted in the development of two maturity models for performance management and measurement, as well as the establishment of the KPI Management Framework to provide the theoretical base for the Certificate in Key Performance Indicators Management.
As a consultant, Aurel conducted numerous performance management system implementations using solutions such as the Balanced Scorecard, operational dashboards and functional performance scorecards.
Free Registration
To register for the webinar click here.

The KPI Institute
September 5th, 2014
Events