Data gathering – Free webinar by The KPI Institute
The KPI Institute, the global authority in Key Performance Indicators (KPIs) research and education now offers weekly webinars that will provide the information and best practices needed to understand the performance management architecture, overcome challenges and attain performance excellence, while following the process sequence.
The sixth webinar from this series focuses on effective data gathering as an important step to further ensure an appropriate reporting and data analysis.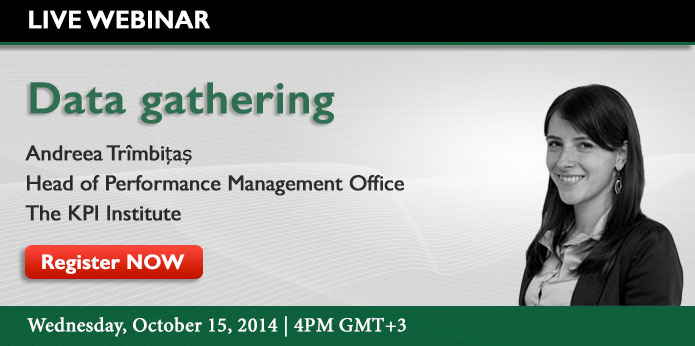 Webinar details
Topic: Data gathering
Date: Wednesday, October 15th, 2014
Speaker: Andreea Trimbitas, Head of Performance Management Office, The KPI Institute
Summary outline of the webinar
Once Key Performance Indicators (KPIs) have been selected and documented, the next step is their activation, which is represented by data gathering. One of the key success factors for an efficient data gathering is the correct understanding of the specific tools and techniques that can be used.
Main topics covered
Data quality dimensions;
Data gathering process;
Data sources taxonomy;
KPI activation tools and techniques.
Key Learning Points
Understanding the steps that need to be taken in the data gathering process;
Identifying data sources for KPIs;
Deploying KPI activation tools;
Applying KPI activation techniques.
About the Speaker
Andreea Trimbitas is the Head of Performance Management Office at The KPI Institute, the global authority on KPI research and education. Her research activity in the Performance Management field materialized in the documentation of over 500 KPIs from 16 functional areas and 25 industries. She aso contributed to the development of a series of publications like "The KPI Compendium", "Top 25 KPIs in 2011-2012" Report Series and the study "Performance Management in Romania 2012".
As a consultant, Andreea was in charge of implementing performance management systems based on Balanced Scorecard, at strategic, operational and individual level as well as revising the performance management architecture of a number of international clients from industries as varied as petrochemicals, public sector, health and professional services.
As an accredited trainer, Andreea facilitated courses and workshops in the Performance Management field.
Free Registration
To register for the webinar click here.

Webinar Recording
The webinar recording will be available on our eLearning platform.
The KPI Institute
October 9th, 2014
E-learning