New smartkpis.com report: KPIs for Restaurant Dashboard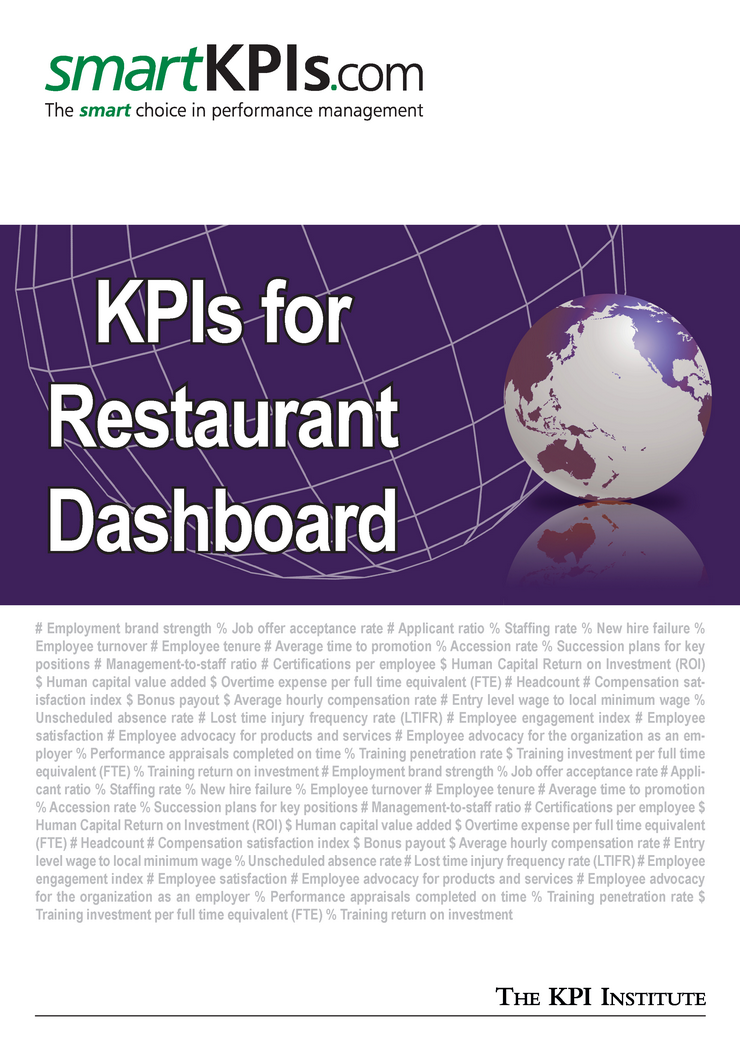 March 12, 2014, Melbourne, Australia – The KPI Institute, the global authority on Key Performance Indicators (KPIs) research and education announces the launch of a new report, KPIs for Restaurant Dashboard. The publication is based on research conducted through www.smartKPIs.com, which contains over 20,000 Key Performance Indicator examples, making it the world's largest source of thoroughly documented KPIs.
Restaurant activities include the provision of complete meals or drinks fit for immediate consumption, in traditional restaurants, self-service or take-away restaurants, whether as permanent or temporary stands, with or without seating. Also, it can include the service of food and beverage to a group as part of an organized event, where services occur to all guests within a specific time frame. Restaurants vary greatly in appearance and offerings, including a wide variety of the main chef's cuisines and service models.
The KPIs for Restaurant Dashboard report is a comprehensive collection of 30 KPIs considered by the smartKPIs.com team as the most relevant and adequate to populate the Restaurant Dashboard. Each KPI is documented based on the best practice KPI documentation template proprietary to smartKPIs.com and available in the smartKPIs Premium section of the website. There are over 30 fields of metadata specific to each KPI, from KPI name to definition, subordinate measures, and calculation formula, among others.
Some of the main sections of the reports are:
"KPIs … naturally", an article that sets the context through a discussion on what is old and what is new in the use of KPIs.
An introduction to the custom KPI documentation form developed by the smartKPIs.com research team for documenting KPIs. It contains over 30 fields of data, making this the most thorough KPI documentation template in use today.
Comprehensive insights on Key Performance Indicators (KPIs) as performance measurement tools and a glossary explaining the most popular terms characterizing KPIs.
A list of the KPIs selected for the Recruitment Agency Dashboard, grouped by the main recruitment processes and activities.
A detailed description of each KPI listed in the KPIs for Recruitment Agency Dashboard report, as documented in smartKPIs Premium (the premium content section of smartKPIs.com).
This collection of 30 thoroughly documented KPIs are used to measure performance of the Restaurant in its most important activities and processes, such as Market Success, Customer Feedback, Occupancy, Service, Marketing and Online Presence.
ABOUT SMARTKPIS.COM
smartkpis.com is the leading online platform for performance management knowledge integration, hosting the largest database of thoroughly documented KPI examples available on the web today. It offers high quality resources and collaboration functionality for the community of members, assisting them in making smart decisions regarding their performance management initiatives. Registration is free and enables research, learning and interaction as part of a growing community of members from over 190 countries and territories.
ABOUT THE KPI INSTITUTE
The KPI Institute is a research, publishing and education provider specialized in developing best practices in the use of KPIs. It developed the KPI Management Framework and runs five main research programs, dedicated to performance management, the Balanced Scorecard, KPIs, analytics and organizational strategy. Over the last 8 years, The Institute assisted over 5,000 organizations in finding solutions to their KPI needs.
The KPI Institute
March 12th, 2014
Research
Tags:
Key Performance Indicators, smartKPIs.com