Reaching 21,000 members – a growing LinkedIn performance community
We are glad to announce that The KPI Institute celebrates another milestone – our LinkedIn group now reached 21,000 members and we are still counting.
We are celebrating a community of PERFORMANCE in Measurement, Management, KPI, The Balanced Scorecard, Business Intelligence and Analytics – and we are happy to welcome new members every day.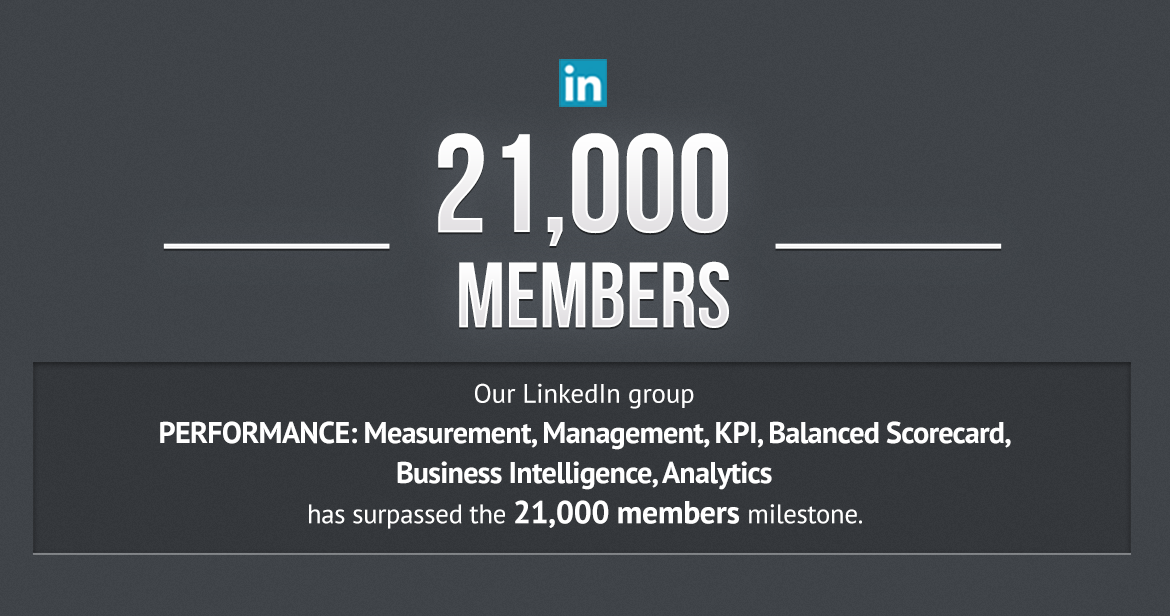 5 months ago we acknowledged another breakthrough, because our group is growing fast, in an attempt to create a global network of professionals, engaging into The KPI Institute's events around the world.
Here are some of the most popular topics in our LinkedIn group:
Performance related events (courses and conferences);
Designing and implementing Performance Management frameworks;
Best practices in Performance Management and measurement;
Performance Management tools of the trade and how to employ them successfully;
General issues related to organizational, operational and individual performance management;
Recommendations of relevant resources.
We are not only celebrating a growing community, but a unifying, interactive platform for professionals with various backgrounds, where they can share experiences and create a knowledge hub for performance know-how, field insights and business opportunities.
We know that a successful organisation is the result of people excellence, this is why we support our group members to learn more and access the best industry or functional area practices, covering important subjects like: Performance Management, Key Performance Indicators (KPIs), Balances Scorecard, Business Intelligence and Data Visualization.
Here are a few of the most popular subjects amongst professionals:
Management Consulting;
Financial Services;
Human Resources;
Information Technology and Services;
Operations Management.
At The KPI Institute, we continue to focus on building a bigger and stronger global network, creating new experiences for professionals of all seniority levels and functions and enabling them to discover countless worldwide opportunities.
We hope to have you on our side at the next milestone – join our LikedIn Goup today!
The KPI Institute
November 16th, 2016
Broad Topics