Save $800 on the Certified KPI Professional Training Course – Melbourne, Australia!
Early bird deadline – April 25th!
Save $800 by signing up now for The KPI Institute's Certified KPI Professional Training Course taking place in Melbourne, Australia: 21-13 May 2014!
The course offers participants the opportunity to get certified on the ability to deploy and use KPIs in accordance with The KPI Institute's Key Performance Indicators Management Framework, the main body of knowledge on the rigorous use of KPIs in business.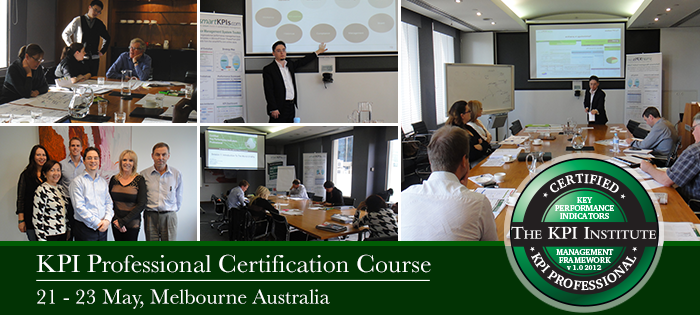 This KPI training course is designed to provide a strong foundation to deploying business management systems and BI software by developing the next generation of KPI professionals. These KPI specialists will become the go-to place for advice around understanding, establishing, activating, reporting and generating value by using KPI across organizations.
By completing the course, participants will gain both the theoretical understanding and practical experience of using a variety of performance management tools and techniques for KPI management.
Participant Certification
Participants will be pre-tested by using a multiple choice questionnaire at the beginning of each session. On Day 3, delegates can opt in to attend a final test to obtain the Certified KPI Professional Certification from The KPI Institute.
Key Business Benefits
Have a clear understanding of the KPI management challenges and how to address them
Facilitate the KPI selection process and establishment of scorecards and dashboards at a functional and organisational level
Choose the right tools from the KPI management toolkit to maximise the impact of performance management in practice
Deploy and promote good practice in KPI activation, reporting and visualisation
Provide advice and coach colleagues on the rigorous approach to establish and use KPIs.
Reasons for attending
10s of performance management system implementations informing the course content
18 hours of technical training, complemented by over 2 hours of interactive discussions
15 key concepts clarified
13 insights into implementing and using KPIs smartly
12 templates to support deployment of course learning
11 years of experience in performance management synthesized in the course material
10 smartKPIs explored in detail
9 interactive exercises and group activities
8 quick reference guides
6 months of free access to the www.smartkpis.com premium content.
Agenda overview
Melbourne KPI Professional Certification is structured in three major modules introducing and detailing different particularities of the KPI Management Framework as developed by The KPI Institute:
Certified KPI Professional Agenda
Day One: Establishing KPIs
Introduction To The World Of KPIs
The Pillars Of KPI Architecture
KPI Selection
Day Two: Activating KPIs
KPI Documentation
Data Visualisation: Designing KPI Dashboards And Scorecards
KPI Data Gathering And Reporting
Day Three: Generating value with KPIs
KPI Management Enablers: Software, Hardware, Communication And Culture
Generating Value From Using KPIs
Measuring And Learning With KPIs
Course details and investment
| | |
| --- | --- |
| Date | 21-13 May 2014 |
| Location | Karstens Conference Centre, Melbourne, Australia |
| Course duration | 9:00-17:00 on Day 1-2 and 9:00-16:45 on Day 3 |
| Other inclusions | Course support handouts, certificate for course completion, lunch-catering service, coffee breaks |
| Class size | Limited to a maximum of 16 participants |
| Registration deadline | 16 May 2014 |
| Course attendance fee | $2,300 – $3,300 (GST included, details in the course brochure) |
| Special offers | Visit course presentation page |
| Complete agenda and templates provided | Download PDF brochure |
The KPI Institute
April 8th, 2014
Events