Why choose a KPI Institute certification?
As performance management tools and processes are gaining more attention, due to the benefits they've brought to organizations worldwide, a KPI certification can bring added value to your company and career.
The KPI Institute's certifications provide you with the opportunity to increase your value in the job market and to gain a strong theoretical and practice-based experience in applying Performance Management frameworks.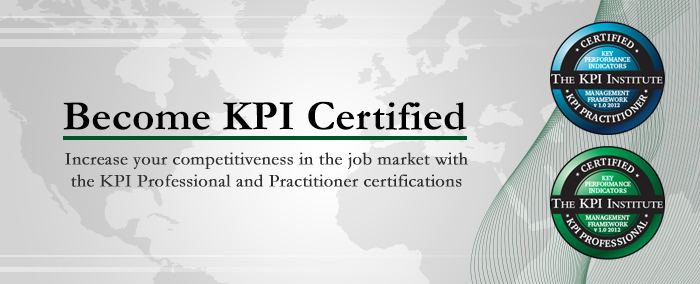 Some of the most valuable certification benefits include:
1. Learning insights from the largest research project on KPIs
The KPI Institute has developed the first KPI Management Framework and operates several research programs: Performance Management, Strategy, Balanced Scorecard and Key Performance Indicators. Participants will have firsthand access to research outputs and best practices in working with KPIs.
2. Understanding the big picture around KPIs in context of strategy and analytics
Participants will learn how to use KPIs in order to achieve their organization's desired level of results and will gain a clear understanding of the KPI management challenges and how to address them efficiently.
3. A rigorous standardized approach to using KPIs
After being presented with toolkits, templates, case studies and good practice examples during the training course, participants will have the ability to customize the KPIs that fulfill their organizations' needs.
4. Practicing using KPIs in applied case studies and exercises
Attendants will have the opportunity to strengthen their newly acquired knowledge, by having access to a series of representative case studies. They will also benefit from a series of exercises that will help fix the theoretical knowledge.
5. Access to subject matter resources and tools
Participants will have access to KPI Management toolkits, user guides and templates to maximize the impact of performance management within their own organizations, as well as access to the smartKPIs.com premium content.
6. Professional recognition based on competency certification
Participants will receive a certification diploma, which confirms their ability to develop and work with specific Performance Management tools.
7. Career opportunities in a field of growth
Having obtained a KPI Certification, participants are encouraged to practice the knowledge they have acquired during the training course within their organizations. Also, the KPI Certification facilitates their access to an on growing professional field, given its relevance to a variety of roles, functions and industries.
Statistics
          <    15 key concepts clarified
          <    13 insights into implementing and using KPIs smartly
          <    11 years of experience in performance management synthesized in comprehensive course materials
          <    6 months of complimentary Premium subscription to smartKPIs.com KPI library.
These are only a few additional reasons for attending The KPI Institute's Certification courses and obtaining the KPI Certification.
Depending on your level of interest and your current qualifications, The KPI Institutes offers two certification levels: KPI Professional Certification and KPI Practitioner Certification.
More details about the two levels of Certification can be found here.
The KPI Institute
February 27th, 2014
Broad Topics
Tags:
KPI Practitioner Certification, KPI Professional Certification, Performance Management